Peace
Free Shipping for US Orders!
Unique, pure, and effective blends in easy to dispense dropper bottle designed exclusively for Olani Wearable Diffusers.

Each of our blends is made with certified organic and conventional essential oils.Essential oils are not all created equal and although many companies claim they sell pure oils, most don't. True essential oils are very expensive to produce, and many companies in the industry take shortcuts to save on costs. At Olani, we offer 100% pure therapeutic-grade aromatherapy essential oils at fair prices.Other companies cut their essential oils with much cheaper carrier oils in order to sell them at a huge profit. However, if you really want to yield the aromatherapeutic benefits that aromatherapy oils have to offer, it is important to only buy premium quality product. If you are purchasing oils that have been diluted without your knowledge, you won't be able to use them as effectively as possible, and you won't see the same benefits.Experience the difference of The Enlightenment Set.
Ingredients
Our PEACE blend inspires unity and acceptance within yourself, the world, and other humans around you through our proprietary blend which includes Eucalyptus Lemon, Fir Balsam, Lavender, and Amyris.

How it Works Choose
Set your intention and select your favorite essential oil.
Diffuse
Rub 2-3 drops of your favorite essential oils onto the lava stone..
Enjoy
Sit back, relax & enjoy the effects of aromatherapy.
Quality You Can Trust
Our team here at Olani is focused on providing the best quality for the best price. Not only do we offer exclusive products, we stand behind our belief in quality over quantity, keeping each lava stone 100% Natural.
Shop All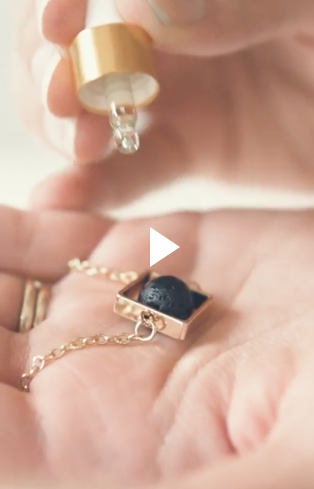 Customer Reviews
Write a Review
Ask a Question
Filter Reviews:
Amyris
Fir Balsam
Eucalyptus Lemon
combination
peace
feel
Lemon Eucalyptus
Lavender
Olani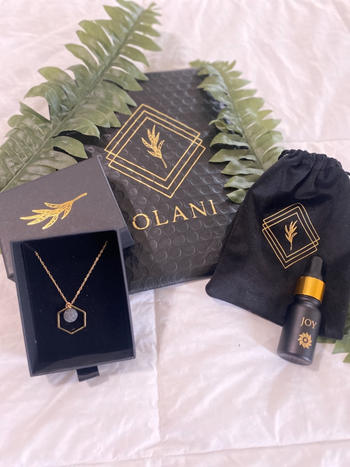 01/19/2021
Obsessed with this oil!
This essential oil is soothing and smells amazing! My overall experience was fantastic
Abigail C.

United States
12/22/2020
A dream of Orange Orchards!
I felt like I was smelling fresh squeezed juice or fruit orchards, it was like a dream! I LOVED it so much!
Shayna L.

United States
02/21/2021
Trista W.

United States
11/25/2020
LOVE Love
Great blend - really notice the jasmine and patchouli - perfect for taking on a date out or in!
Skye N.

United States
11/25/2020
Calming and Rejuvenating!!
I started diffusing this oil a few days ago while working from home and quickly noticed that I felt much happier and more relaxed as I worked! Would definitely recommend this scent to anyone! (It has somewhat of an earthy scent as well, which I love!)
Katie .

United States
11/25/2020
Jasmine and Geranium are an unexpectedly pleasant blend
This oil was a fantastic blend of surprising scents. They worked so well together!
Kate

United States
11/25/2020
Great gift combination for the holidays!
This was a great collection I purchased for my mother on her birthday. It would make a great gift or stocking stuffer for the holidays. My mother loved it!
Kat

United States
11/24/2020
Great Deal!
I purchase as a stocking stuffer for my wife. I am looking forward to her using it.
Trevor .

United States
11/24/2020
Peace is real with this oil!
The delicate combination of Eucalyptus Lemon, Fir Balsam, Lavender, and Amyris makes this a wonderfully relaxing yet invigorating oil!
Kat S.

United States
11/24/2020
Soothing!
I wasn't sure about the Lemon Eucalyptus at first but when I diffuse it, I for sure feel at peace. Truly amazing. Thanks, Olani!
Tracy

United States
11/24/2020
Great scent combination!
The combinations of smells within this oil perfectly compliment each other for a soft, relaxing, and uplifting scent.
Kat S.

United States
11/24/2020
This blend is perfect.
I honestly can't imagine a better smell for joy. I literally felt lifted after using it. And the scent lasted all day! Not over powering at all.
Delores

United States
11/24/2020
Whoa - Amazing!
The Jasmine hits nicely in this blend!
Delores

United States
11/24/2020
Great oil!
Love the smell of this oil! Great for aromatherapy, and I feel like I'm getting high-quality oil for a very reasonable price.
Kat S.

United States
Wellness Made Wearable
Beautiful design meets aromatherapy to help cultivate positive change in your life
Shop All